Here are you questions and answers. Got questions? Email me: cbensten@blueeggbrownnest.com
Just started my first project and next step is to wax. On most tutorials I see people using a flat chubby was brush that they are calling a AS brush, however we going on AS site or others that sell AS products, the AS wax brush is pointed? 
Your stockist will see flat wax brushes next to ASCP. These have wood handles and a flat, bristled head. The large is for clear wax and the small is for dark wax. I personally have moved away from wax brushes because I had found them a bit difficult to work with when applying clear wax. I like to use a soft, lint-free rag. You can pull a table spoon of wax and apply much more easily. Take a look at the tutorial that I did on it.
How do you finish the top of a dining table. I'm doing a table the same as yours in "the Weathered wood look"? Also one edge of the table was very worn down by a small child. What would you do so that doesn't look different?
Is the table you are working on oak? It must be a textured wood to get this look! If not, the paint will not seep into the crevices. I would be a bit concerned if there is part of the table that is not textured due to damage. If it is small then just proceed with my technique. If it really sticks out from the rest of the surface then you may want to consider painting a solid coat and not the weathered wood look.
Is the marble very expensive? Where do you source it an do you seal it?
The marble top tables that I have listed for sale are all vintage. They are more expensive and offer a classy look. No, I do not seal or touch a vintage piece of marble.
I was told that you have some awesome tutorials to help with chalk painting and waxing. Where do I find those? Thanks
You can find my tutorials on YouTube. You can search for my channel by searching
BLUE EGG BROWN NEST
. You can also access my tutorials from my new button on my website.
Wondering what color and brand paint you painted the interior of your house with?
We use all Benjamin Moore paints and have been very happy.
We have a 5 piece 1970's bedroom set to paint for a client, the look they are after is a white washed beach look.The furniture is med dark wood, smooth varnished tops, with architectural fan details. If we use the white chalk paint over the existing surface, finish with the clear wax, how does it hold up on the nightstands, can you put a water glass on it? Will it scratch off over time? 
I always say that painted furniture will wear just like unpainted, stained furniture. If you use it in a high traffic area then it will wear. However, ASCP does NOT scratch! It is amazing that way. You will not have to worry about the paint flaking off either. As for water marks you probably should use a coaster on any piece of furniture. I have found that if I let it dry after clear wax for a few days before setting items on it then I am okay. I have may painted pieces in my house along with 3 kids and they have all held up amazingly. But, don't assume that they are bubble-wrapped and without risk of damage.
Do you have any experience on kitchen cabinets? So concerned on durability! I cant imagine not priming varnished cabinets. 
If you are concerned about your kitchen cabinets then consider putting a matte poly on them after you have chalk painted. Do a sample area and see if you like the look.
I am considering some pendant lights for my kitchen and really like yours…would you mind sharing where you found them? 
We found those through a designer.
Where did you get your prints above your fireplace?  
I found the botanicals on Etsy and made them!
Where did you get your Santos dolls?
I purchase them from a wholesale dealer. I am bringing 2 out to Luckett's tomorrow.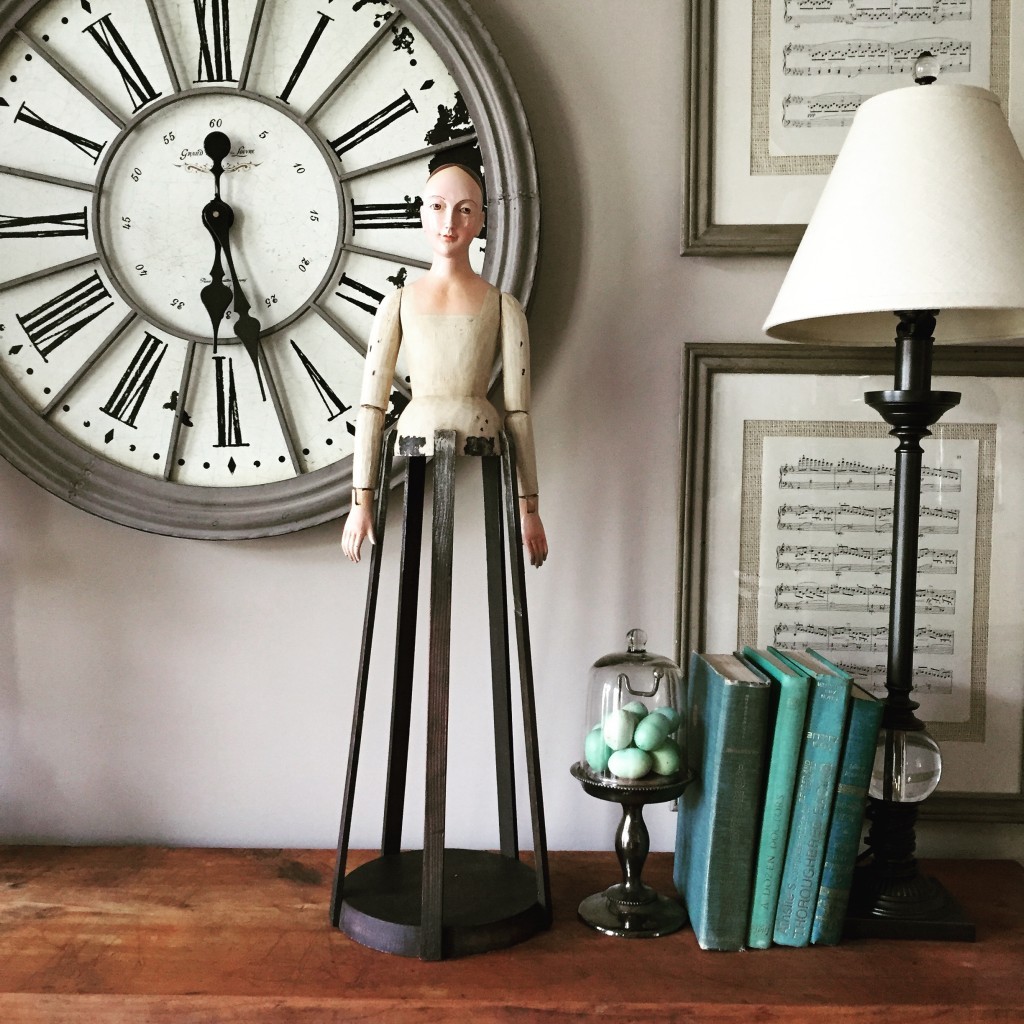 My 2nd BIG question is, you have children right? Where do you keep all your children's trinkets? I have 3 children, 22 (not such a baby lol), 12 and 7. I have tons of little pieces of art from school, pottery etc…..I struggle with where to place it all and still have a "clutter-free" home!
Oh mama! I hear you! I have let my desk area become kind of an kid art display area. It is really impossible to keep organized so I tend to let it go. I hang pictures and keep out little clay art. After a few months I will put it away in a huge plastic storage container. I had one for each child and I have saved literally almost every piece of art from the time they started preschool. I cannot throw away any of it! Eventually when I have time I will photograph every piece and make books.
I was wondering about your great room curtains. Where are they from? Are they white-white?
Ikea and off white.
Have you ever chalk painted older hard wood floors?  I would like to try it in a room that doesn't get a lot of traffic.
No, I haven't. But people do. I would assume that you want to be comfortable with a shabby look if you go this route.
I have been waiting for these forever.  I don't think I can get to Luckett's anytime soon.  Any chance that I can buy them directly from you?  If yes, how do we go about it?  How much do they cost and how do I pay you?  Is check an option unless you accept credit cards.  I don't trust PayPal. Will you be able to mail them to me (I live in West Springfield). 
I believe you are referring to my nests and eggs? I will get more and yes, I can ship a few. Email me again with info.
I looked at the photos you posted of the pieces you brought to Luckett's – Could you send me a better picture (or post) of the painting that your husband hung?  I think your MIL should definitely sell her beautiful paintings. 
I will! I was a bit overwhelmed at move in, but I will get a better shot soon.
I wondered if you could advise me on waxing.  I have done a number of pieces with clear wax and dark.  It seems like they stay tacky and attack dust and fur.  I have started using varathane as a final coat.  Do you have the same problem or am I doing something wrong.  I do wipe off as much as possible but sometimes seem to be removing all the dark wax!  
Yes, you need to make sure that there is no excess wax and that you really buff it into the piece. You also want to let it dry several days. If you do these two things they you should not have this problem.