Before we do Q&A's, let me start this post by saying I ADORE THIS POPE. I think he is a true example of Jesus, offering an example of pure love and kindness. I find his interest in being relevant to what is going on in the world refreshing and message of hope so important. He is visiting DC TODAY, in fact, and I gave some serious thought to going down to catch a glimpse. If you know me through my writing you know that my faith is everything to me. My schedule does not allow me to get down to the White House, but I am glued to my TV this morning. I believe a Pope like this can help change our hearts and minds towards God and each other.
You will also know that I, like all of us, am trying to make my way gracefully through this broken world and being vulnerable is my path towards healing and happiness. I expose myself here to connect and to grow with you, Dear Readers.
Here are your Q&A's. Got questions? Email me at cbensten@blueeggbrownnest.com
I did have a question for you I found this cute round bassinet/crib for sale and was wondering if chalk paint is save for a baby.  You know some babies may bite on the railing and so forth.  What is your thought on that. 
All my babies used a white, painted crib from Buy Buy Baby and they chewed on the railing. I'm sure this paint was not completely baby-proof. ASCP is non toxic. I still wouldn't want a baby chewing on the side, however. I always recommend using those plastic bite rails. I bet they make them now for round cribs since those are trending right now. Do a Google search.
Unfortunately I can't get Annie Sloan products here, but I can get the Martha Stewart chalk paints.  I am just wondering if you have tried them and what your opinion is?  
You can always order ASCP from a stockist. I know my stockist, Stylish Patina sells online. I have not used the Martha Steward paints, but it is on my to do list!
I decided to refinish an used solid oak dining table into something I saw on your site. How did you do this? What colour of chalk paint should I buy? The current colour of the oak is more like birch colour just lightly glossy look.
The table that you are referencing and shown in your email is my dining table, which was purchased. It was not painted, but is reclaimed barn wood. If you are looking to do a weathered wood look, check out my YouTube Tuturials as I did one for this look.
I have a question regarding painting a piece that is that black Chinese Lacquer paint. I love the weathered look that wood gives but how can i get this look with this type of paint under? The color I am going for is a warm grey that is weathered like Restoration furniture.
Unfortunately, you can't with your piece. You need an oak wood or textured wood to create this look. The laquer is very smooth. Consider painting a light color and wiping it down as you go to create a faux weathered look. If you do not like this then just painting it will still be beautiful.
I'd be so much happier if you would increase your font size…my readers are struggling…haha!
Ummm. Is this something you can do on your monitor?
 I need cute little tags too as I am about to debut in my first public retail space too and I have very similar taste to you so would love to know where you ordered your tags?  Were they designed especially for you?  
OMG. I found the best site. I will talk about it soon. I am using Moo and they are special!
I was wondering if you painted the large picture over the long pew in your home ??  The pew and pic look the same color.  If you purchased it can you tell me where , I cant find that size first of all and I want just color , no scenes.  If you did it can you tell me if its canvas , chalk paint etc.  I also love the one in your formal living room.
My mother in law! And, yes, I am pressuring her to sell her work at Luckett's with me 🙂
I am writing because I am stalled on a project (stalled is too nice of a term…broken down is more like it! In 2 months I have made little progress after my initial paint coats) I have watched all of your videos numerous times…especially the ones on Old white (which my project is done in), What distressing is and how to do it with dark wax, and the one on Waxing. You probably should know I am working on a new King bed, very dark wood(I bought at ODD LOTS and trying to make it look old , expensive but distressed. 
Ok, if you are breaking down then step away from the project for a day at least. Then go back with a fresh eye. Old White is a light color. Are you using enough coats? Paint about 2 or 3 coats to really cover the dark wood. Let each coat dry sufficiently. Then next day or whenever you are ready and paint has set, sand the edges. Do not do too much. Dark wood will create a very rustic look with white paint. then clear wax and let dry. I would not even do dark wax on this project. Let me know how it goes.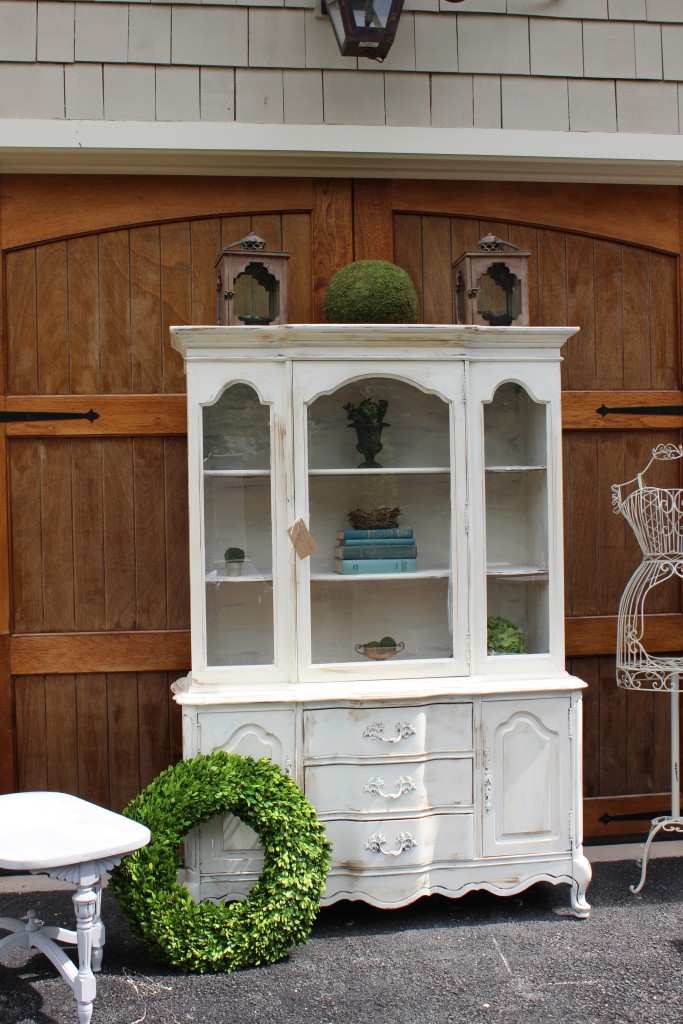 I am applying 3 plaques to the headboard to make it more intricate before I paint the entire thing old white…but they are not the same color as the bed…should I try to paint them that color…or just let the wax become "The wood" showing though? 
Apply your appliques and then paint as you wood a regular piece. Do not sand appliques unless the are wood.
I would like to ask you where you got the beautiful blue journal/diary that appeared on one of your posts –I think this week?
Oh, I love this journal too! I found it at my stockist. Let me get the brand for you.
Subscribe to my Blue Egg Brown Nest daily blogs for inspiration, ideas and tips here. Like my Facebook page here for more.