Thank you so much to all of you that participated in the Linky Party yesterday! What fun! I will announce the winner next Thursday. For those of you that had a bit of trouble posting, let me know and I'll try to help. It worked, but if you got stuck your image may have been too big or the link you may have posted was not the link to my site.
And now back to my white bedroom. As I was saying, a chandelier in a bedroom is special and makes you feel like you are entering a fancy space & one of just a bit more decadence. It does not have to be expensive or fancy. There are so many chandeliers out there that are inexpensive, but look like crystal. Ahem, like the one in my own bedroom 🙂 I think I bought it from Overstock.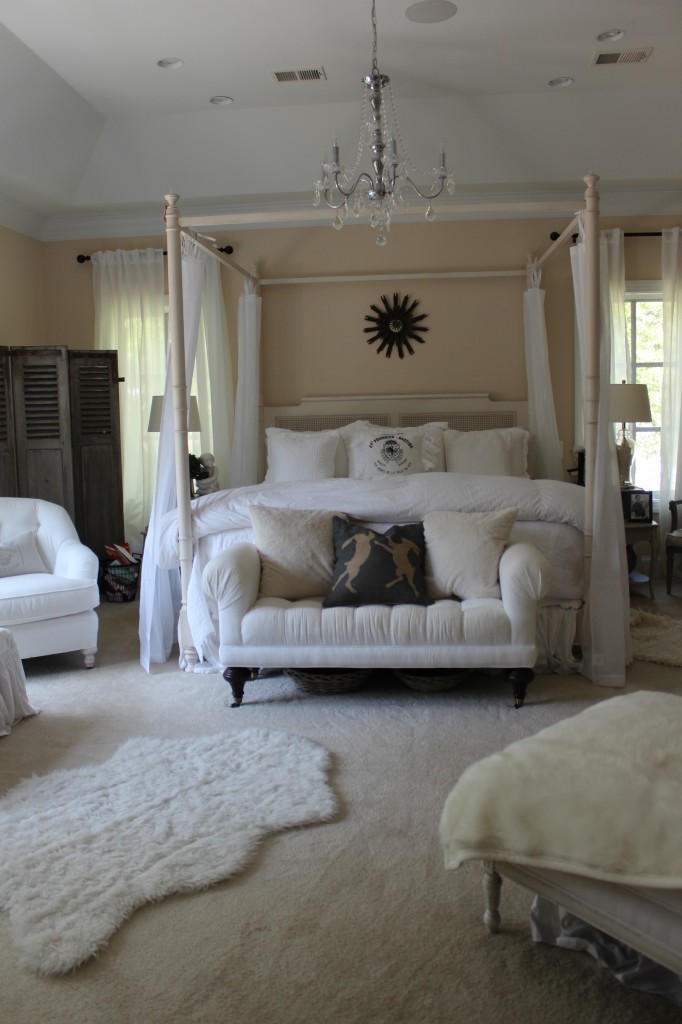 Here's another sweet example.
(OMG, I just found a coat rack at an estate sale. Great idea to put it in a bedroom!)
I love the Bateau 6 Light Chandelier from Belle Maison
But, you will pay for the look. A more inexpensive option is this one from Shades of Light.
Or how about this petite one from Your Paris Home
You could even find one at Goodwill and spray paint it with spray from Home Depot. It's an easy accent and even if you can't wire for light, you can still hang one and get almost the same effect. I won't tell you how many sconces I have in my walls that don't actually work! Fashion before function, right? ":)
You deserve elegance in your bedroom. I give you permission to treat yourself.
xoxo